15 Makeup Trends for 2022
by :
GlamLipstick
It looks like 2022 will remain in the make-up history as the brightest and the most creative year. It's time to stock up on rhinestones, neon shadows, and acid eyeliners because even everyday make-up can't do without sparkles and accents. But it won't be boring! In this article, we will tell you what is trendy in makeup '2022.
Lip Makeup Trends 2022
Ruby red lipstick

Let's start with a well-known classic. Accented red in lips in the makeup looks great and contrasting, especially against pale skin. You will definitely gain that wow effect in your makeup if you wear red lipstick. Makeup artists choose lipsticks with a wet finish, as matte textures have temporarily disappeared from the runways and red carpets. When you wear red lipstick, make sure to wear minimum eye makeup. So, just use the classic scheme for going out and for every day when you want to refresh your image.
Glossy lip finish

Glitter is still applied in a thick layer. This lip makeup trend has been with us for several seasons in a row. For the reserved and neutral tones, just pick transparent lipgloss. If you are looking for a bolder look, pick lipgloss and decorate it with holographic sparkles. In the summer version, it is okay to use much glitter and cover all parts of the face and body: from eyebrows to shoulders.
Plum lips

Using plum lipstick is a great option for those who are bored with the standard lip makeup palette. Choose a comfortable shade that will match your skin tone. Problems can arise with the following. It is quite difficult to choose a dark lipstick that does not emphasize flaws and does not age for a couple of years. Still, there is always space for experimentation!
Eye makeup trends 2022
Purple and lilac eyeshadows

The palette for 2022 is quite bright and saturated, and shades with a purple undertone are among the favorites. Violets, lilac, lavender – try out all the floral shades in your eye makeup, especially for an evening out. Just like with the case of plum lipstick, purple shadows can play a cruel joke. Improperly picked colors make the face look tired and emphasize swelling. But there are proven recommendations: eggplant shades are recommended to owners of green eyes, cold purple shades look great on blue-eyed, and warm purple works well with brown-eyed faces.
Neon eye makeup accents

Have you thought that we said goodbye to neon until next summer? No way! Bright makeup is still occupying TikTok, and celebrities are not going to give it up. Bright vibrant neon tones can cover the entire eyelid, they can flicker in the shape of arrows or can be applied to the lower eyelid. Feel free to choose brighter colors: fuchsia, tangerine, lemon, or light green.
Green eyeshadows

Fashionable make-up in 2022 is bright make-up! You will have time to make sure this is true this summer. But for now, urgently reconsider your attitude to green shadows. Some celebrities combine several trends in their makeup at once: smokey, neon green, and sparkles. This option is difficult to imagine in everyday realities, but we have an easy DIY alternative. Just use lime eyeliner or pastel emerald shades.
Shiny eyelids
Glitter crept into the daytime eye makeup. Do not draw dramatic large rhinestones in your fantasies (although they are relevant). Paying attention to modest shimmering shadows will be enough to create the desired effect. By the way, they can be combined with pastel matte tones, reducing the degree of expressiveness and getting new interesting combinations.
Emphasis on the lower eyelid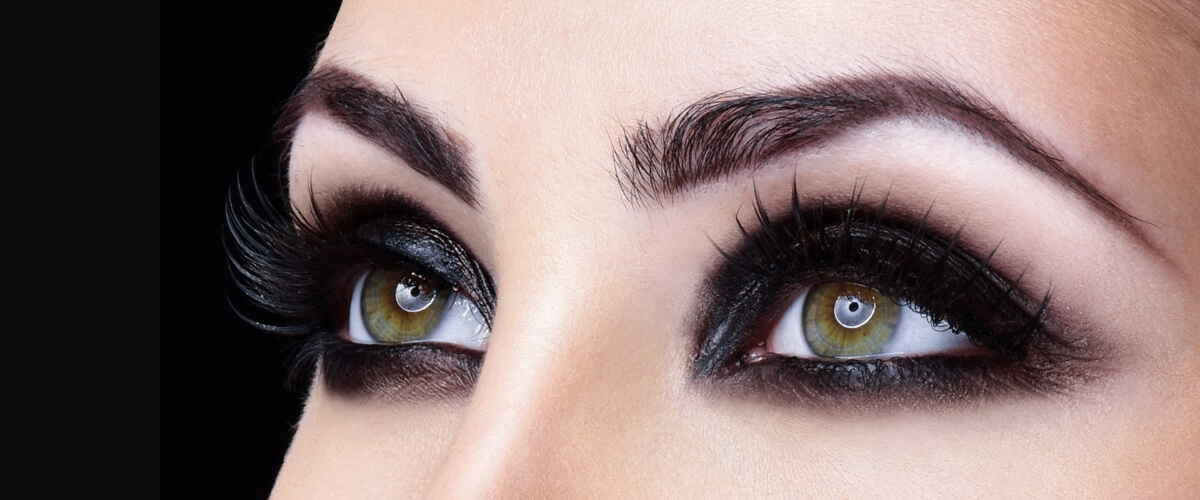 In 2022, makeup trends are breaking stereotypes. All our lives we have been sure that a bright accent on the lower eyelid makes them look heavier and adds age. Yet, the incessant mask mode stimulates make-up experiments. In 2022, the eyeliner along the lower edge is no exception. How to wear a new trend is another question. You can gently blend, like Margot Robbie, and go to the office. And you can follow the example of Deepika Padukone: such "black swans" under the eyes will definitely make you the queen of the party.
Eyebrow trends 2022
Imperfect eyebrows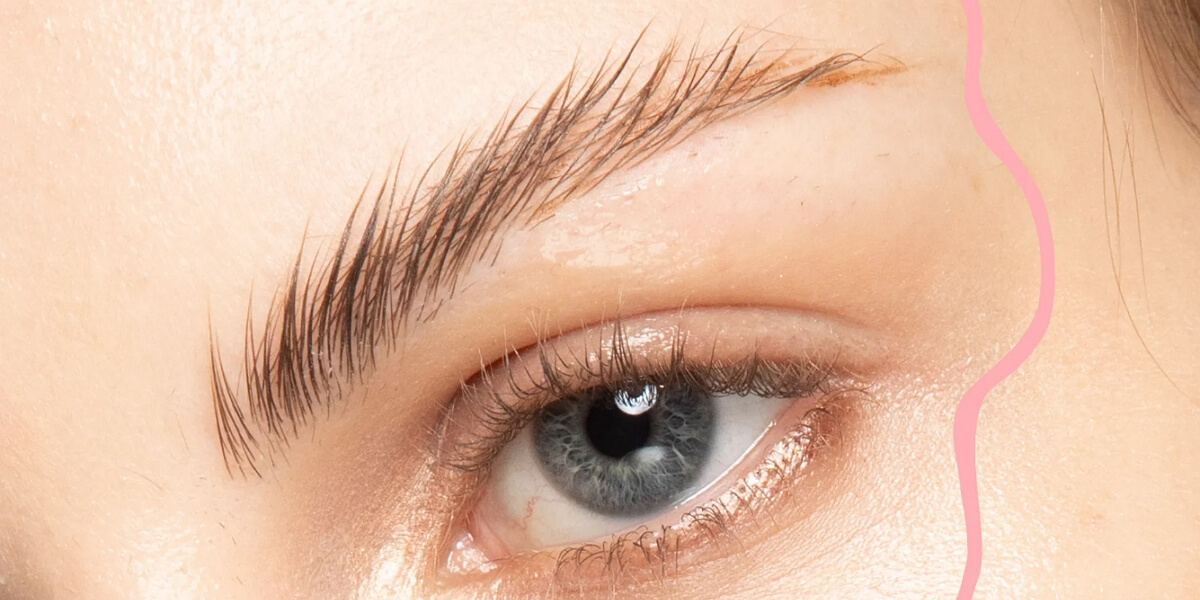 We waited! Now it's not shameful to wear asymmetrical eyebrows. This year no one will judge you if the hairs break out of order in some places. Did nature reward you with thick eyebrows? If so, you can do nothing at all (although makeup artists still recommend combing the hairs up to open your eyes). Do not think, that eyebrows are still an important part of the image, just now they have other requirements: no clearly traced hairs, no graphics, no perfection!
Soapy eyebrows

To make your natural hairs look more or less neat, fix them with soap. We learned this technique in the summer of 2021 and will be using it throughout 2022. The technique is simple: put some soap on a clean eyebrow brush (pre-moisten it with water) and gently comb the hairs in the right direction. As a result, you will get rid of that oily sheen, and gain reliable fixation and the most natural eyebrows. Everything we love!
Bridal makeup trends 2022
Powder wedding

Nothing will emphasize the gentle and romantic image of the bride better than a powdery shade. It is used in the eye and lip make-up and is also applied as a blush. You will never find a more trendy monochrome make-up that looks as feminine and fresh. Don't forget to add a little shimmery eye shadow and lip gloss. All the makeup trends of 2022 are also relevant to wedding looks.
Wedding metallic

Shimmering silver and gold on the upper eyelid are definitely one of the most winning options in wedding makeup. As a result, you are getting a wide-open look, a festive glow, and automatically mask any signs of fatigue. Do not be shy to be unusual either, as you can add a pair of rhinestones in the corners of the eyes or to the moving eyelid. These accents will look very impressive.
Fancy Makeup Trends 2022
3D makeup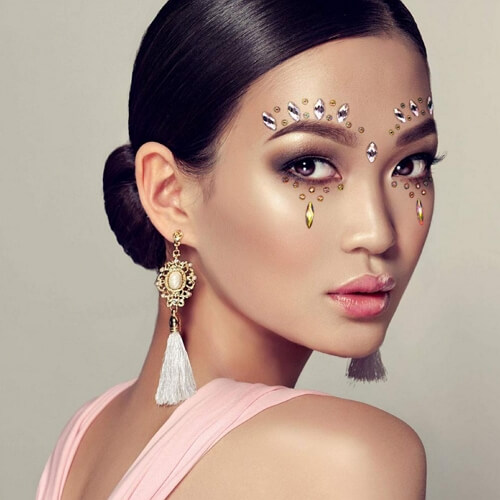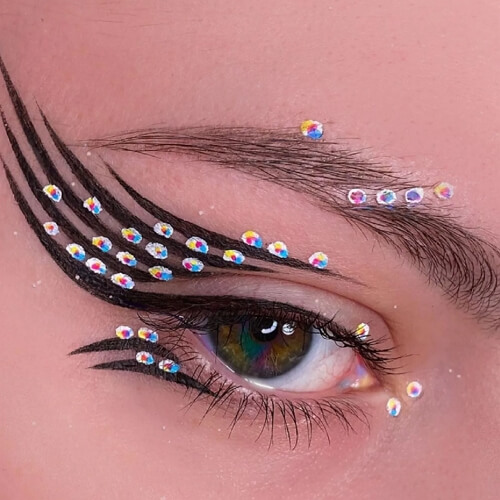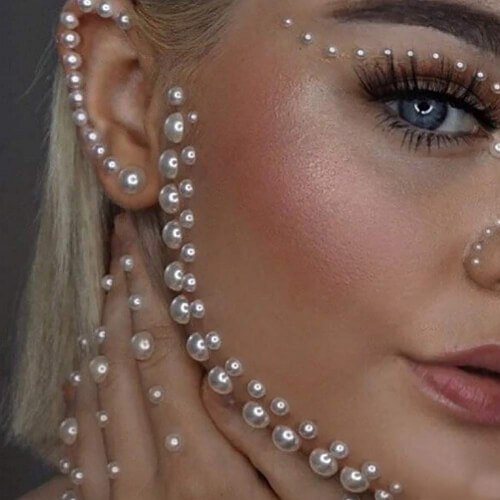 It seems that the make-up artists no longer know how to be creative. 3D flowers, stones, and voluminous crystals are glued onto the faces of the models. When we see these experiments, the harmless rhinestones of Lily Collins and Gigi Hadid no longer seem so extravagant. Yes, we know that such makeup is not suitable for every day, but still. You can use these ideas for a New Year's party, going to a club, or an art photoshoot. So, you should save a couple of crystals.
Art makeup

Think of your face as a blank canvas, open to experimentation. That is exactly what makeup artists advise. Abstract and graphic arrows, leopard spots instead of shadows, painted bridge of the nose… In 2022, makeup trends allow us to do any prank! And if you cannot find another creative idea for your makeup yet, just combine a few contrasting shades in an evening make-up, as Zendaya did.
Disco eyebrows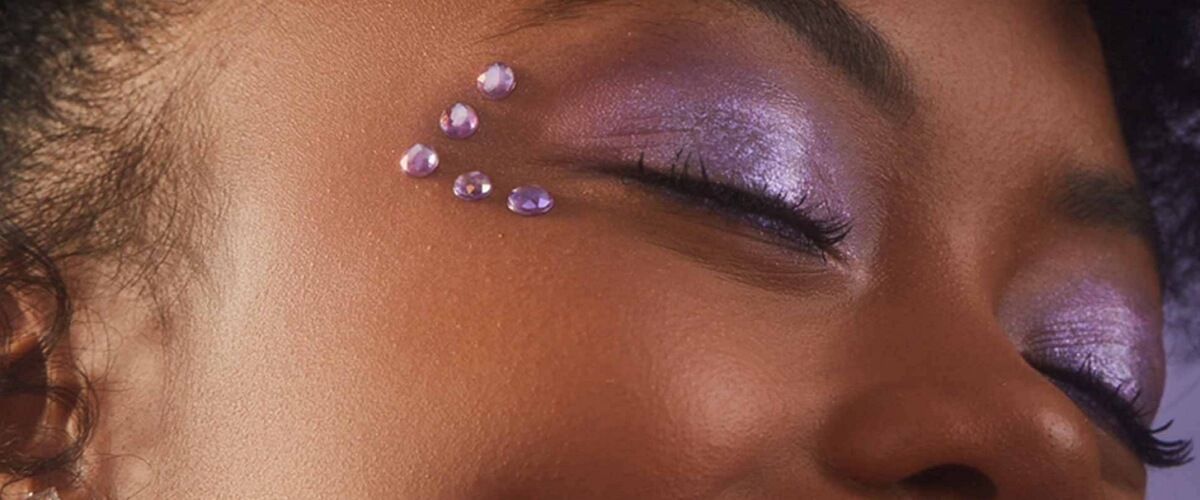 Do you remember when we said that this year sparkles can be found in the most unexpected places? So eyebrows are just that case. We don't quite understand what effect (except shocking, of course) makeup artists want to achieve, but we know for sure that in 2022 every fashionista should try out this unusual trend.
You may also like