How to Use Concealer as Foundation: Tips & Tricks
by :
GlamLipstick
Concealer is available in so many shades and feature thicker formula, than foundation or powder. The main purpose of concealer is to hide minor skin imperfections, such as red spots, blue circles under eyes, etc. Usually, the concealer is applied only in the areas where you need to mask something. Then you apply foundation, finish powder and are good to go. Yet, can concealer be used as a stand-alone product? Let us find out.
Can I use concealer all over my face?
The short answer is both yes and no. If you have perfect skin and there is some area that you need to work on, concealer is exactly what you need. Just apply a tiny spot of concealer there and blend the edges well to make that transition invisible. If you want to cover all the face with concealer, there are certain things you need to keep in mind.
Concealer features thick formula, so if you use it instead of foundation for a long time, it may clog pores. But if you really need that thick coverage no matter what, make sure to use face primer first. It will not allow concealer get deep into the pores.
As a rule, concealer is pricier, than foundation, so such approach to makeup is likely to break the bank.
If you want to use concealer all over the face, you will likely need more than 1 color not to look flat. Use the lighter color under eyes, and darker shade for the rest of the face. If you are into contouring, you may get the third color that is darker than your skin to apply under cheek bones for that finely sculptured look.
If you plan wearing only concealer for the whole day, note that it may dry on skin in some areas. As a result, you may gain that patchy coverage, which you definitely do not want to. To prevent this from happening, grab a moisturizing transparent face spray with you (All Nighter by Urban Decay will do it, or you can pick the other similar product).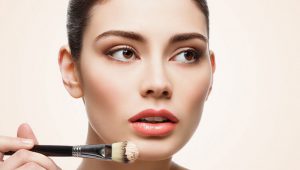 How to wear only concealer
| | Challenge | Solution |
| --- | --- | --- |
| 1 | Concealer features thick formula | You may use a couple of foundation drops mixed with it |
| 2 | Concealer may clog pores | Use primer before applying concealer |
| 3 | Concealer may look patchy with time | Use transparent setting spray during the day |
| 4 | Concealer doesn't give that even coverage | Apply translucent powder over concealer |
| 5 | Applying concealer all over the face may create that flat look | Pick more than 1 concealer color |
| 6 | Concealer may fade over time on skin | Pick the concealer color that's close to the color of your skin |
| 7 | Concealer may apply in a patchy way | Blend concealer well (you may damp brush) |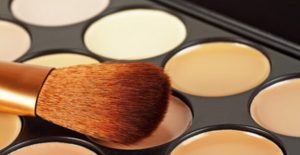 How to apply concealer
If you are willing to use concealer instead of foundation to create that even coverage, here are 3 easy steps you should follow.
Prep your skin. When the skin is clean and ready for makeup application, apply face primer to prevent pore clogging.
For even and non-patchy look, mix your concealer with a couple of drops of moisturizer or foundation. This will allow creating smoother formula, which will not appear too patchy or dry on skin.
Use your fingertips to apply concealer. Alternatively, you can use synthetic flat foundation brush. If you feel, that the formula is too thick, you can apply concealer with dampened brush.
Make sure to blend concealer on skin well to avoid uneven coverage.
For healthy and even finish, use dusty or translucent powder over concealer.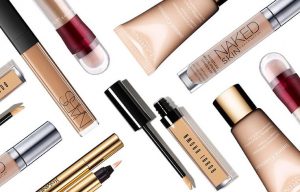 Makeup with only concealer and powder
If you do not want to use foundation in your makeup and you want to gain that thick coverage, you may consider using concealer and powder. The procedure is pretty much the same as the regular concealer-based makeup. Yet, when powder is applied over concealer, you will gain more natural effect.
Step 1. Prep your skin and apply face primer or moisturizer.
Step 2. Apply concealer over the face. You may use more than 1 concealer color for different areas.
Step 3. Blend concealer well to avoid patchy look.
Step 4. Use a paper towel to remove excess of the product.
Step 5. Apply powder over concealer with a fluffy brush.
Step 6. To make the face more sculptured, you may want to apply highlighter above the cheek bones.
You may also like
Submit your review

Submit

Cancel
Concealer
Average rating:
2 reviews
Jun 6, 2022
Location (Sity, State):
Delhi,India
Like the post.
Mar 11, 2018
Location (Sity, State):
NJ
I use L.A. Girl concealers to do the whole face. They are not too thick as some creamy concealers, and they aren't expensive.