Aphrodisiac Palette (Urban Decay): Review & Swatches
by :
GlamLipstick
In August, 2018, Urban Decay has launched a compact-sized palette, the Aphrodisiac. It is a limited-edition eye shadow palette, that features both matte and shimmer shadows. Some beauty bloggers consider the Aphrodisiac palette to be a sort of teaser for the Naked Purple palette that is rumored to be unveiled sometime this fall. It seems like Urban Decay has somehow reversed their marketing strategy, and this fall we'll see the bigger palette's debut after the small one's release, unlike it was with the Heat palettes. Looking at the makeup tendencies, purple is going to be trendy this fall. Just look at Anastasia Beverly Hills Norvina palette. After the Aphrodisiac palette release we clearly see, that this fall purples are going to be paired with warm colors, and cooler purple will be left aside.
Aphrodisiac Palette: Quick Overview
So, let us take a closer look at the Aphrodisiac palette and see, what the palette is about, how the colors appear on skin and how they blend together.
Slim case (business card-shaped);
6 eye shadows;
1 mirror in the package;
24 oz of eyeshadow;
3 matte eye shadows;
3 shimmer eye shadows.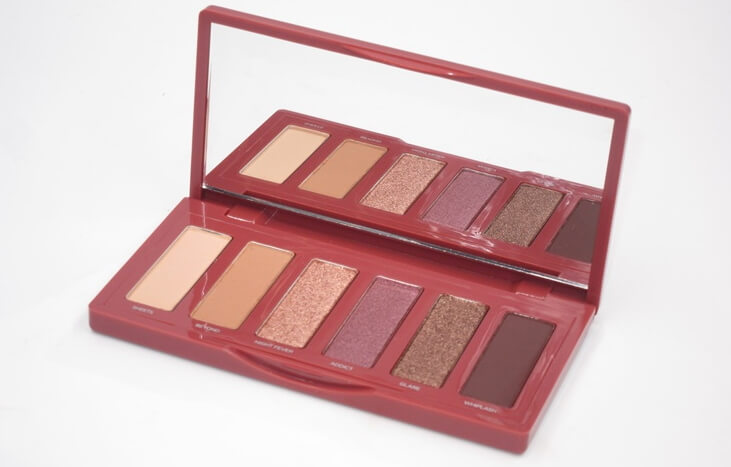 Technically, the only purple color in the Aphrodisiac palette is the Addict shadow. The rest of the palette is warmer shadows that are supposed to accommodate the purple color. Overall, the colors of the palette seem like to have much in common with the colors seen in the other UD palettes, so if you are looking for something totally new, most likely you will be disappointed. What we liked about the palette, is the way the colors work together in reality. To be fair, though, first we had hard time thinking of the way the colors will perform together. To be honest, it was fun to work with the palette and play with different color combinations, so if you want to enjoy the Aphrodisiac palette as well, just start trying out!
Aphrodisiac Palette: Swatches & Colors
| Shadow | Finish | Color | Undertone |
| --- | --- | --- | --- |
| Sheets | matte | light-medium peach | warm, yellowish |
| Beyond | matte | light brown | warm, orange |
| Night Fever | glittering | light-medium copper | warm, red |
| Addict | pearly sheen | medium plum | warm |
| Glare | metallic | medium bronze | warm |
| Whiplash | matte | deep brown | cool |
Aphrodisiac Palette: Pros & Cons
Overall, we enjoyed working with the Aphrodisiac eye shadow palette. In general, the colors perform way better over the primer. Shimmer shadows work well on bare skin as well, while mattes will require a lot of work and multiple layers to get proper coverage. In general, colors from this palette wear between 7 to 8 hours, and start fading after that time. Using eye shadow primer helps to prolong the lifespan of the makeup we made using these Urban Decay eye shadows.
You may also like
Submit your review

Submit

Cancel
Aphrodisiac
Average rating:
2 reviews
Aug 18, 2018
Location (Sity, State):
Houston, TX
I like this palette because of its size. I find the colors rather neutral, so I've been doing my everyday makeup with this palette within a week. Good, that you can carry it with you all the time because of its size.
Aug 12, 2018
Location (Sity, State):
NY
The palette is great, and everyone who likes that texture by UD will certainly enjoy it, I'm giving it 4 stars because the case scratches badly in my purse. I love the colors and everything about the shadows themselves, though.