Lime Crime Venus: Review & Swatches
by :
GlamLipstick
This eye shadow palette by Lime Crime is one of those palettes that can easily become a daily must-have both for makeup artists and for those, who do their everyday makeup in the morning on regular basis. It is due to the colors the palette features. The Venus palette by Lime Crime has both nude and neutral colors, and highly pigmented rusty-red eye shadows.
Packaging of the Venus Palette
Lime crime made a real work of art by introducing such palette design. When we got the pallet, we understood that the designers at Lime Crime did a great job by making the packaging that awesome. The package itself is cardboard, and the exterior has got modern version of Botticelli's classic painting along with the palette name. The palette opens and closes with a magnet. Inside there is a mirror and 8 full-size eye shadows. Each color features its name below, intruded with gold paint. The packaging seemed just awesome to us, and we can recommend it to add up the collection of a real makeup junkie!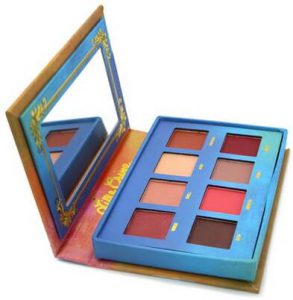 Consistency & Formula
These eye shadows appear much pigmented, and feature mostly warm undertones. The finish is velvety-matte, some shadows feature gentle finely milled shimmer. The color payoff is rich both on bare skin and when used with the eyeshadow base. Though for longer wear we recommend still using these eye shadows over the base for more lasting and velvet effect. If you still haven't chosen your perfect eye shadow primer, here are some tips we've got for you at this point. The shadows blend well with each other and even the darker colors did not give that patchy coverage.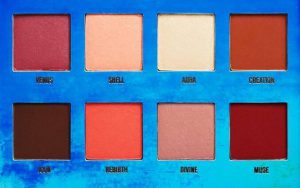 Swatches & Description
Venus

This eye shadow may be also called marsala or burgundy red. If you look closer into it, you will notice some shimmer in the formula. The finish is somewhat satin, yet at certain angle may look matte. It blends well and stays for 7+ hours, with minimal signs of wear when applied over the eye shadow primer.
Shell
This is one of the base colors in the palette. It features beige-pink color with warm undertone and shimmery finish. The shadow blends easy with both natural and synthetic brush, and stays for 7 hours with minimal fade. This color works well on the upper eye lid and in the inner corner. The formula is smooth and non-dusty.
Aura
This is the other base color that may be used in the 'nude' makeups, or as a color to blend with the darker colors for transition. Also, this is the absolutely perfect color for the brow bone or inner corner, as its glitter catches the right amount of light for that glowing effect. The color is ivory with gentle shimmer finish and warm undertone.
Creation

This is a rusty-brown color with warm reddish undertone and matte finish. It is matte with very tiny slight of satin micro-shimmer that shows up at the light. This color is very noble, yet the formula is somewhat dusty. It blends well over the primer, yet on the bare skin you will have to put minimal effort to apply it without getting patchy coverage. It lasts for 8 hours without signs of wear.
Icon

This is a chocolate-brown eye shadow with matte finish and cool undertone. If you look closer, you will notice minimal shimmer that can be barely seen when you look into this palette refill. Yet when the color is applied on the lid and blended, this shimmer becomes more visible and gives somewhat satin effect. This color works perfectly for smoky eyes look and blends well under the lower lash line. It ears for 7+ hours with minimal fading.
Rebirth

This is a pinky color, somewhat close to the over-ripe nectarine. It features warm undertone and perfectly matte finish. This color is quite rare for the eye shadows, and you will usually see it in the lipstick color options. The color is very pigmented and blends well, wears for 8+ hours without fading out. The eye shadow is neither chalky nor dusty, yet the formula may seem a bit drier, than the other shadows in the palette.
Divine

This is a dusty brown color with cool undertone and perfectly matte finish. It works well as a transition color and blends well with the other colors of the palette without creating that patchy coverage even when used without the primer. The Divine eye shadow applies with minimal fallout and is not chalky. It does well in the neutral and 'nude' eye makeup, if applied in the crease. It lasts for 7+ hours before fading out.
Muse

This is a deep burgundy red eye shadow with cool undertone and matte finish. The formula is not chalky, yet applies with minimal fallout. It gives even finish when applied over the primer, blends well and stays for 8+ hours. The color is very pigmented and works well for the trendy burgundy makeups.
Pros & Cons
Pros
Cons



rich pigmentation;


lasting formula (8+ hours);


not dusty or chalky eye shadows;


minimal fall-out;


many colors will work for everyday makeup;


shadows blend well without patchy coverage;


shadows work better on the eye shadow base





relatively high price;


some very specific colors that will be not that frequently used



You may also like
Submit your review

Submit

Cancel
Venus
Average rating:
1 reviews
Jan 25, 2018
Location (Sity, State):
Alberta, Canada
I love the palette and my favorite color is Aura, while thouse reds are still in place, my Aura is almost empty (