How to apply highlighter drops
by :
GlamLipstick
If you do not want your face to look flat this summer, it is a good idea to pick a highlighter for that healthy and glowing look. With so many highlighters on the market, it is difficult to pick one that's going to be the best. Cover FX, L'Oreal and many other makeup brands have recently introduced several liquid highlighters, and we must say, these products really do their job.
How to apply liquid highlighter
Liquid highlighter or highlighter drops are usually applied on top of foundation. So when the face is primed, prepped and you've got your foundation on, proceed to highlighter application. Put tiny drops of highlighter onto the high points of your face in order to create that perfectly lit and sculptured face effect. You will need to highlight cheekbones, brow bones and tip and/or bridge of the nose. Next, you can use your fingertips, blending sponge or synthetic brush to rub the highlighter into the skin and blend the coverage. You may need different brush sizes to work with wider (e.g. cheekbones) and smaller areas (nose, Cupid's bow, etc).
Where do you put liquid highlighter on your face?
Usually, liquid highlighter is applied along the face in the areas, where sun naturally touches skin. The main rule of liquid highlighter application is to make it look natural and not to do too much. Unlike powder highlighter, highlighter drops will not be removed as easily as powder highlighter by simply blending out. So it's always better to do a bit of highlighting first, and then add more if you feel you need more glow.
Bridge of nose;
Cupid's bow;
Brow bones;
Top of cheekbones.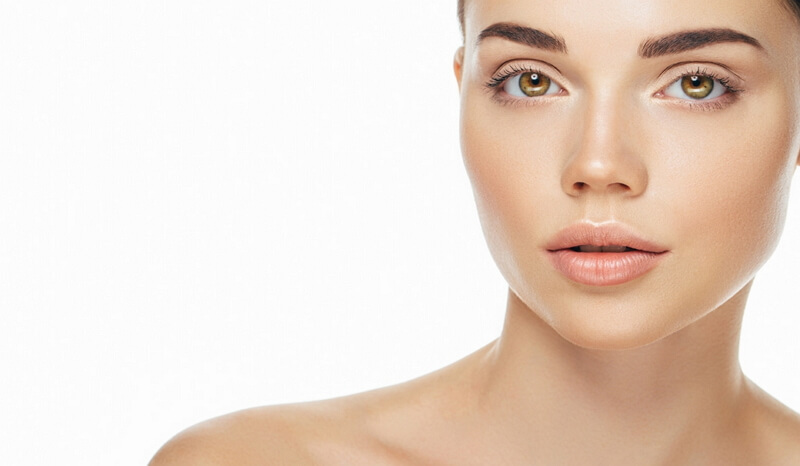 Difference between liquid and powder highlighter
Let's put it straight: liquid highlighters are very different from the powder ones. And even though all highlighters typically have the same function and may be used as multi-purpose products, highlighter drops are usually more pigmented and better stay on skin. That's why we recommend using highlighter drops for summer, especially if you want your makeup to last in hot summer days.
The best highlighter drops
Here is the list of the best highlighter drops. We really like, how these products perform, and you may be interested in one of them for your own glowing makeup.
| Highlighter drops | Color | Volume | Price |
| --- | --- | --- | --- |
| Cover FX Enhancer Drops | 6 color options of bronzers and highlighters | 0.8 oz | CHECK PRICE |
| L'Oreal Paris True Match Lumi Glow | highlighting glowing drops | 0.47 oz | CHECK PRICE |
| Plovex Liquid Highlighter | 5 colors of shimmer highlighters, bronzers and concealer | 0.5 oz | CHECK PRICE |
| Maybelline Master Strobing Stick | 2 colors of shimmer highlighter | 0.24 oz | CHECK PRICE |
| Barry M Liquid Chrome Highlighter Drops | moderate golden glow | 0.16 oz | CHECK PRICE |
| Marc Jacobs Beauty Dew Drops | natural peachy glow | 6.4 oz | CHECK PRICE |
| SUNTRIC Liquid Highlighter | pinky gold shimmer highlighter | 0.53 oz | CHECK PRICE |
You may also like
Submit your review

Submit

Cancel
Beauty Dew Drops
Average rating:
0 reviews