How to Do Ombre Lips: Step by Step Tutorial
by :
GlamLipstick
Ombre lips involve two or more colors and involve that gradient technique to create that effective look. By means of this technique you may create that effect of pout and full lips. This kind of lip makeup became especially trendy in fall 2017, and based on the latest makeup trends we can say, that it will be still fashionable in 2018. Before, this way of applying lipstick was often seen in matte, now glossy ombre lips with glitter accent are something you can wear to look trendy. So, let us see, how to do ombre lips.
Tools and Products to Do Ombre Lips
2 shades of lipstick;
Synthetic lip brush;
Lip liner;
A tissue.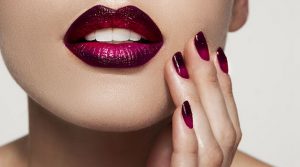 Ombre Lips: Step by Step Instruction
This step is optional, yet we recommend applying lipstick primer or lip balm before creating lip makeup.
Line your lips with the lip liner or pencil. Pick the liner color as close as possible to the color of the lipstick that you want to be on the outer side of your lips.
Blend the line with a synthetic brush
You may want to repeat steps 1 and 2 several times to get that bold look.
Fill in your lips with the lipstick that is darker. Make sure the color is close to the lip liner.
Take a tissue and remove lipstick from the center of your lips. Note, that if you use lasting lipstick, it's better not to apply it in the middle and blend lipstick quickly before the color dries.
Once done, fill the center of your lips with the second color (usually it's the lighter color, if you want to gain those pout lip effect). Do that carefully with a synthetic lipstick brush.
Now you need to blur the edge between the colors. To do that, press your lips together. Then, if needed, you may blend the border between the colors with your brush.
Next, if you wish, you can apply lip topper or lipgloss in the middle as the final accent.
Ombre lips DIY picture step-by-step instruction
You may also like