Lime Crime Venus XL: Review & Swatches
by :
GlamLipstick
With impressive number of eye shadow palettes in those trendy pinky tones, Lime Crime Venus XL may seem very similar to the Modern Renaissance by Anastasia Beverly Hills or Desert Dusk by Huda Beauty. It was released by Lime Crime in February, 2018. It's fair to say, that the palette is not a must-have, yet it has many unique colors, as well as shadows, that can be used for everyday makeup. The palette contains 18 eye shadows and features that traditional for the Venus lineup picture of the ancient goddess. Inside, there is a big mirror.
Lime Crime Venus XL: Quick Overview
Technically, the Lime Crime Venus XL does not feature any shadows, duplicate with the other 2 Venus palettes. Yet, there are many similar colors, so if you have two previous Venus palettes, you may want the Venus XL rather for your beauty collection. Yet, even though the colors are very similar, the textures differ a lot. Let us consider the similarities between the XL shadows and those from the first Venus Lime Crime palette.
Lime Crime Venus vs Lime Crime Venus XL: Comparison
| Lime Crime Venus | Lime Crime Venus XL |
| --- | --- |
| Aura | Blank Canvas |
| Shell | Ethereal |
| Divine | Fresca |
| Rebirth | Flora |
| Creation | Burnt Gold |
| Venus | Supreme |
| Muse | Aphrodite |
| Icon | Nu Classic |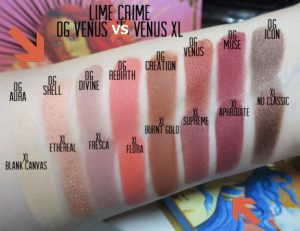 Lime Crime Venus XL: Colors & Swatches
Eden – rose eye shadow with warm undertone and metallic finish
Love – peach bronze eye shadow with warm undertone and metallic finish
Passion – raspberry eye shadow with cool undertone and matte finish
Fresca – light taupe eye shadow with warm undertone and sparkle matte finish
Inspire – pink berry eye shadow with cool undertone and metallic finish
Idolized – bright beige eye shadow with warm peachy undertone and glow finish
Aphrodite – rich brownish red eye shadow with warm undertone and glow finish
Nu Classic – brownish bronze eye shadow with warm undertone and metallic finish
Burnt Gold – medium terracotta eye shadow with warm undertone and glowing finish
Flora – rich coral eye shadow with matte finish and warm undertone
Scallop – peachy pink eye shadow with warm undertone and matte finish
Celestial – brick-colored eye shadow with warm undertone and sparkling matte finish
Ethereal – brownish gold eye shadow with warm undertone and metallic finish
Triumph – muted reddish dark pink eye shadow warm undertone and matte finish
Supreme – brownish mauve eye shadow with warm undertone and deep glowing finish
Blank Canvas – light beige eye shadow with cool undertone and matte finish
Boticelli – deep wine eye shadow with cool undertone and glowing finish
Goddess – dusty pink eye shadow with warm undertone and glowing finish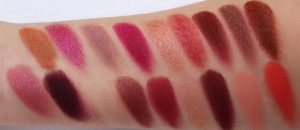 Lime Crime Venus XL: Colors & Swatches
Eden: Venus XL
Love: Venus XL
Passion: Venus XL
Fresca: Venus XL
Inspire: Venus XL
Idolized: Venus XL
Aphrodite: Venus XL
Nu Classic: Venus XL
Burnt Gold: Venus XL
Flora: Venus XL
Scallop: Venus XL
Celestial: Venus XL
Ethereal: Venus XL
Triumph: Venus XL
Supreme: Venus XL
Blank Canvas: Venus XL
Boticelli: Venus XL
Goddess: Venus XL
You may also like